HANG SENG BANK HEADQUARTERS BUILDING,
Hong Kong
1991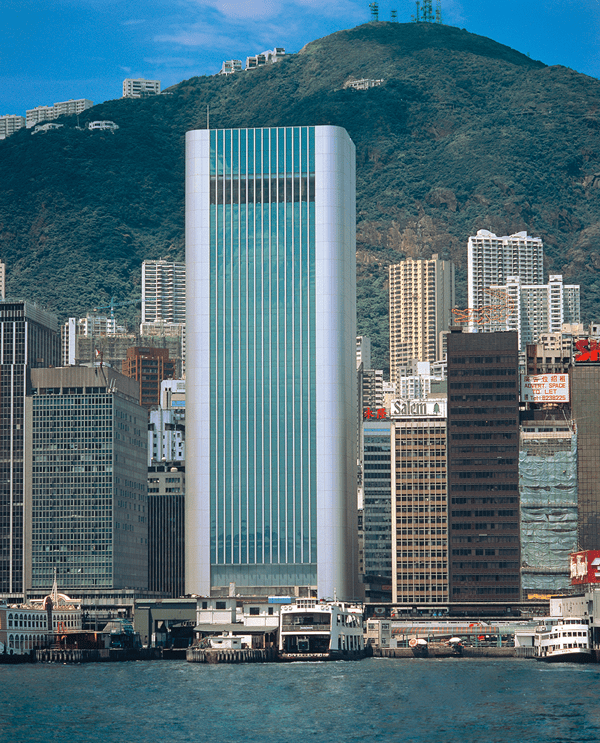 The new headquarters building is located on Queen Victoria Street opposite the original headquarters. The design of the new flagship of the Bank takes on an architectural form that reflects the business philosophy of the Bank of providing 'smooth and efficient' customer services. This philosophy is consistently reflected in the façade and formal treatment as well as in the interior design.
Until the completion of the International Finance Centre on the Central reclamation, the tower commanded a panoramic view of the harbour. The 27-storey tower was planned with column-free offices spanning 30 metres between two structural cores at the sides. This arrangement not only allows flexible interior spaces with unobstructed harbour views but also successfully screens out the undesirable views at the sides. The entire building has been designed to suit the specific needs and spatial requirements of the bank with the banking halls located on the podium floors, departmental offices on various tower floors and executive function rooms at the topmost floor.
A pedestrian passage has been incorporated at first floor level which links via footbridges to the elevated walkway along Connaught Road to the north and to the mid-levels escalators leading to SOHO district to the south.
The choice of natural anodised aluminium cladding and green tinted glass for the curtain wall echoes the colour scheme of the original headquarters. Vertical features on the north and south façades accentuate the vertical proportions of the building.