PRINCE OF WALES HOSPITAL,
MAIN CLINICAL BLOCK & TRAUMA CENTRE,
Hong Kong
2011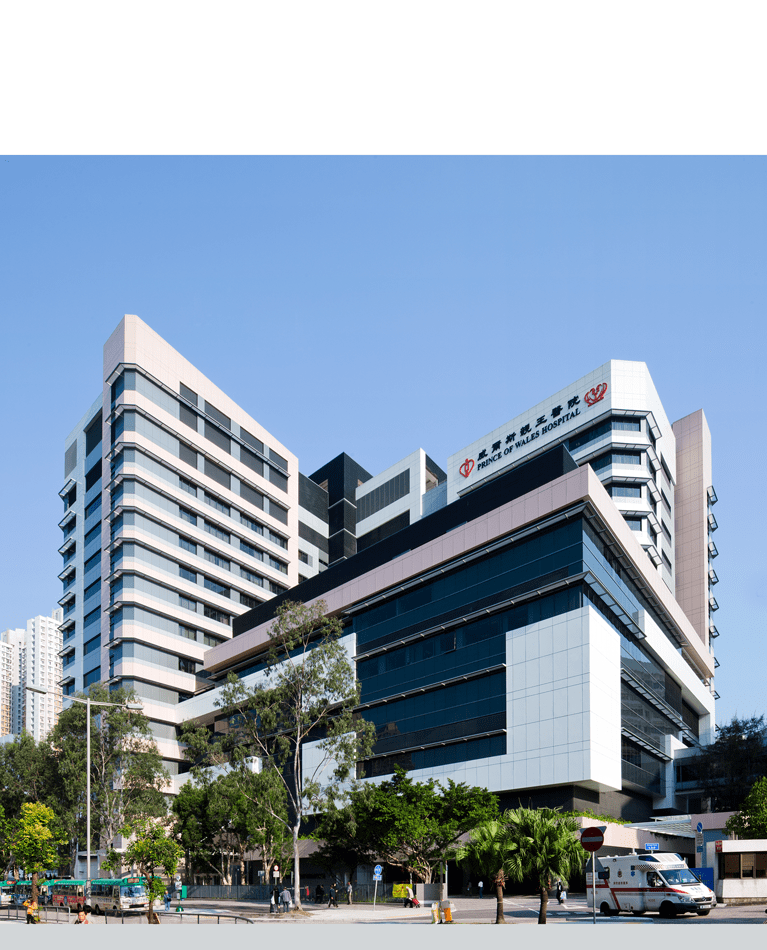 Opened in 1984, the Prince of Wales Hospital (PWH) is the regional acute hospital serving the New Territories East Cluster. It is also the teaching hospital for the Medical School of the Chinese University of Hong Kong. The extension project is the first stage in the re-provisioning of the core facilities of the existing hospital which have become outdated.
With an addition of 800 new beds and a total of about 71,000 s.m., the new Main Clinical Block and Trauma Centre (MCBTC) became the new physical identity of the Hospital. As such, many opportunities arise to make the Hospital more patient friendly, easy to use and to set the trend for future phases with a warm and welcoming identity for the whole campus. The design adopts the concept of a healing environment for patients and a stress-free environment for staff by providing soft colours, indirect lighting; easy wayfinding, natural lighting and generous provision of landscaped areas. Located on an existing open-air carpark and helipad at the northwest corner of the campus abutting Ngan Shing Street and Chap Wai Kon Street, the MCBTC became the gateway building to the hospital. With a number of specialized out-patient and ambulatory care facilities maintained in the existing complex, the whole arrival experience and seamless connectivity was fundamental to the overall complex.
A strategically located main entrance lobby signaled by a large canopy, captures arrivals from street level either from the MTR station down the road or the public transport facilities from the interchange on the opposite side of the road. A generous, well-lit double volume space linked by escalators connects the upper level vehicular drop-off arrival where vehicle and pedestrian traffic are separated. Users can access other parts of the hospital via an internal footbridge at Level 2.
The building is organised around a three wing T-shaped ward block arrangement with a central lift core and sharing of the common patient rehabilitation and staff facilities on each floor. The wards are arranged with the nurses' stations placed in the centre of the ward for maximum visibility and efficiency with minimum distance to all beds. This highly efficient arrangement offers intuitive wayfinding and maximizes the frontage of the building and therefore windows, views and daylight to all the wards.
| | |
| --- | --- |
| AWARDS | Quality Building Award 2012 – Certificate of Merit Award, HK Non-Residential [New Building] Category |
| | BEAM – Gold |